Computer War (aka War Games)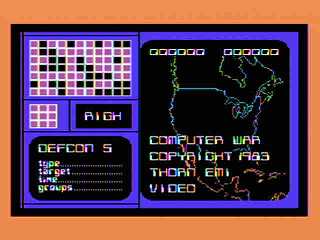 The Computer War cartridge is one of three titles for the TI-99/4A from British entertainment giant Thorn EMI that were announced in 1983, but never released due to TI's decision to exit the home computer market. The other two titles were River Rescue and Submarine Commander. Fortunately for 99ers around the world, Roger Dooley's Tenex Computer Express company in Mishawaka, IN was able to obtain the rights to these three programs in 1986 and subsequently released all three on disk for $29.95.
War Games and River Rescue instruction manuals for the TI can be seen on the cover of the July 1983 issue of Enthusiast 99 magazine. Computer War is listed in a review published in the February 1984 of Compute! magazine on page 134 as being available for the TI-99/4A, and it is further commented on in a Letter to the Editor found in the October 1986 issue of MICROpendium on page 8.
War Games was the original title of this game, based upon the widely touted theme of the earlier movie of the same name, which starred Matthew Brodrick, Ally Sheedy and Dabney Coleman. It was to be produced by British entertainment giant THORN-EMI, along with River Rescue and Submarine Commander, but never was. A cartridge version of the game, renamed Computer War, did appear in 1986, produced by Micropal, which was a subsidiary of Roger Dooley's Tenex Computer Express business in Mishawaka, Indiana. The entire stock of those cartridges was purchased by Joy Electronics in 1992 and are still available.
Cart: Black case with white label and blue text. ©1986 Microsphere Inc.
Docs: White 9" X 6" paper. No programmer credit.