TACHYON SYSTEMS: 5125 S. Westwind Way Kearns, UT 84118 (801) 537-7021 firm which produced the standalone T32K-S memory expansion unit for the TI-99/4A in 1983.

TATE, GEORGE: Founder, along with Hal Lashlee, of Ashton-Tate, the Culver City, CA firm that (thought they) bought the rights to the Vulcan Data Base and who turned it into the fabulously popular and commercially successful dBase II program that continues to have an impact upon the PC industry to this day. Tate died at age 40 on August 10, 1983 and fortunately never saw his company go down in flames in a suicidal copyright lawsuit against Borland International in which Ashton-Tate lost because it was discovered they never really owned the rights to the original Vulcan product. In 1987-88 the dBase II program would become the inspiration for Dennis Faherty's TI-BASE, which is still the data base standard for the TI-99/4A today.

TAUB, JACK R.: Founder of The SourceTelecomputing Corporation, an early supporter of TI-99/4 and 4A owners with modems through TexNet.

TAYLOR, JOHN E.: Author of Alphanum Delight, Capture the Intruder, Checkbook and Budget Manager, Color Master, and Sprite Builder.

TBR INC.: PO Box 18 Temple, NH 03084 firm which produced The Cupboard Cook application on cassette for $24.95 in 1984.

TE4-PLUS: From Tex-Comp. Released 2Q/1985. MSRP $19.95. A high speed terminal emulator that supports 110-9600 baud. (Mini-Mag 99 May 1985, p.23)

TECHNICAL DRIVE: A book authored by college student Monty Schmidt that explains TI's internal routines for disk access.

TERRELL, PAUL: The founder and CEO of Byte, Incorporated, which was the parent company of the Byte Shop Computer Store chain. Principal in the Exidy Corporation in 1978. Shortly after selling his chain of Byte Shops, Terrell demonstrated the Zilog Z-80 based Exidy Sorcerer microcomputer at the Personal Computer Show in Philadelphia. The system was officially released in the spring of 1978 featuring plug in ROMpac cartridges, 12K ROM, 8K RAM a 79-key keyboard and 64 column by 30 line display. The suggested retail price is $1100.

Paul Terrell was also the President of ROMOX in 1983, which was the firm that produced the Edge Connector Programmable Cartridge (ECPCtm) and several game cartridges for the TI-99/4A, Atari, VIC and C64. Romox went out of business in 1985. See also ROMOX ECPCs and SOFTWARE CENTERS.

TEX-COMP USER'S SUPPLY: PO Box 33084 Granada Hills, CA 91344 (818) 363-7331 firm that specialized in warehousing TI-99/4A products. Founded by California attorney Jerry Price in 1981.

TEXAS INSTRUMENTS INC.: A Dallas, Texas-based corporation that started out in the 1930s as Geophysical Service Inc. TI's growth began in earnest in 1941 when it applied the seismic technology it used for oil exploration to antisubmarine warfare gear.

THE 99/4 PROGRAM EXCHANGE: PO Box 3242 Torrance, CA 90510 firm which lost a lawsuit to Charles LaFara in 1984 after producing ads in magazines using a logo too similar to the one already copyrighted by the International 99/4 Users Group.

THE SOURCE: 1616 Anderson Rd McLean, VA 22102 (703) 734-7500 firm that was among the first on-line computer services providers. Founded in 1978 by Jack R. Taub. Acquired by The Reader's Digest Association in October 1980. The Source (with impetus from Texas Instruments) provided 99/4A owners with TexNet, the on-line Special Interest Group (SIG) that was devoted solely to TI-99/4 and 4A owners. When TI left the Home computer Market TextNet all but died. However it was restored to new life by Don and Doyle Bynum in the summer of 1984 and returned as the New TexNet. By November 1987 the TISIG portion of The Source was in trouble again though, with membership dropping. Sysops Blaine Crandell and Walt Howe were notifed that TE2 transfers were being eliminated and that if membership didn't increase to help pay the way for the TISIG, that the entire TI-99 section would have to be shut down.

THORN-EMI CARTRIDGES: According to 99er David Shaw, the cartridges planned for the production of Computer War, River Rescue and Submarine Commander had a black plastic casing, slim, plugged into the right hand socket where the PEB usually plugs in. The PCB was gold plated and the ICs were surface mounted- that is to say NOT in a big black case, the actual silicon wafer was mounted to the PCB and protected with a small blob of something looking like black tar (but obviously not!) Only a production sample was produced for test purposes, so no labels exist on the cartridges, but presumably one would have fit on the top surface. No leg on the right for the module to "sit" on the table, as the Tigervision modules have. The module was relatively small and light and entirely supported by the socket.

TI EXECUTIVES: Following is a list of the "players" at Texas Instruments who had a part in shaping the life and death of the TI-99/4 and TI-99/4A Home Computers.
J. Fred Bucy - Corporation President at Texas Instruments. The person responsible for setting up the production facility in Lubbock, TX, which was only 20 miles from Bucy's home town.
Stewart Carrell - Promoted to vice-president in 1982 management shakeup. Given responsibility for coordinating technology, marketing and planning. Resigned two weeks after Consumer Group president William J. Turner left TI in July 1983.
C. Morris Chang - Vice-president of the Consumer Group in 1979 when Texas Instruments made the move into the Home Computer market.
Grant A. Dove - Senior vice-president of Marketing at Texas Instruments. Responsible for TI's improved marketing strategies on the TI-99/4 and 4A.
Peter A. Field - A "hired-gun" from the consumer package-goods industry brought in on September 7, 1983 to do a better job of marketing the 99/4A, only to have it all shut down underneath him a couple months later.
Jerry R. Junkins - Replaced William J. Turner as head of the Consumer Products Group in April 1983.
Mark Shepherd Jr. - Chairman of the Board of Texas Instruments before, during, and after the TI-99 era. The person who made the decision to use the 9900 processor in the TI-99/4 Home Computer, rather than an industry standard 8-bit chip.
William N. Sick - Vice-president of the Consumer Products Group from the TI-99/4's introduction in 1979, to the death of the TI-99/4A in 1983.
William J. Turner - Head of Marketing for the Consumer Products Group. Hired away from Digital Equipment Corporation for the job. May have been the person most responsible for the TI-99 losing money because of his pricing strategies. Left Texas Instruments in July 1983 amid a sinking ship. Was President of the Consumer Products Group at the time.
TI INTERN: A book authored by Heiner Martin that explains and disassembles TI's GPL.
TI-99/4: Spec sheet from 1979.
TI-99/5: See the Comments Section in the April 1994 issue of MICROpendium magazine on page 4.
TNT COMPUTER PRODUCTS: A 15971 Royale Ct Fountain Valley, CA 92708 (800) 854-0561 ext 921 distributor of TI-99/4A products.
TOMCZYK, MICHAEL: Product Marketing Manager for Commodore International in 1982, and author of "The Home Computer Wars" book published by Compute Books in 1984.
TRACKSMITH: PO Box 738 Cooper Station, NY 10276 company which released Horse Racing Handicapper on cassette for $34.95 in September 1983.
TRAMIEL, JACK: Founder of Commodore Business Machines and the driving force behind Commodore's victory over Texas Instruments in the Home Computer Wars of 1982-83. Quit his position at Commodore in January 1984 when Irving Gould, a Canadian financier whom Tramiel was in debt to, returned only 10% of Tramiel's stock in Commodore when Jack turned the company around and had it making millions. Tramiel then bought Atari from Warner Communications for next to nothing and turned it into a profitable company for a few years, before it was absorbed by a disk drive company in the early 1990s and disappeared forever.
During Tramiel's early days at Atari he brought out the ST line and surrounded it with a lot of fanfare and marketing hype. Among the most remembered hype was "The Atari Ten Commandments":
1. We shall create a computer that will be a landmark in the history of computers.
2. We shall create a computer that is as smart as the buy who buy it.
3. We shall create a computer that sets a new standard for speed and performance.
4. We shall create a computer that lets consumers choose what is right for them.
5. We shall create a computer that gives consumers power without the price.
6. We shall create a computer that is as powerful in the music studio as it is in the office.
7.
8.
9.
10.
TRASHMAN: One of nine titles announced by Funware president Michael Brouthers at the June 1983 Consumer Electronics Show as forthcoming for the 99/4A by September 1, 1983. The nine titles included: Ambulance, Ant Colony, Astroblitz, Cave Creatures, Crisis Mountain, Driving Demon, Pipes, Saint Nick and Trashman. Only three of the titles announced actually made it into production (Ambulance, Driving Demon and St. Nick).
TREND-TEK CORP: Manufacturers of a joystick holder for the TI-99/4A in 1983. See ad in Compute! magazine May83, p.284.
TRONICS INC.: A Sales and Distribution company founded in Fort Worth, TX in July 1981 by Jody Black. Tronics became known as the Shaklee of home computers by pioneering the sales of Texas Instruments TI-99/4A and its accessories, peripherals and software via a 'door-to-door' type of distributorship. At the height of the company's successes, it was even able to strike a deal with Scott, Foresman and Company to distribute their TI-99/4A cartridges with the Tronics Label on the cartridge.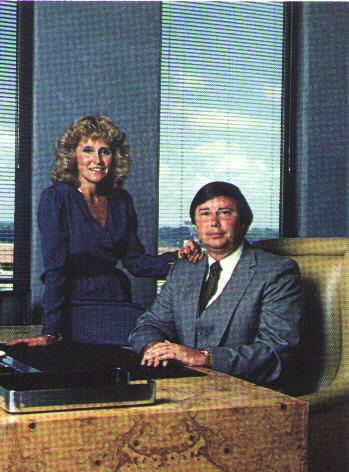 Jody and Linda Black circa 1982
TRS-80: One of the early personal computers from Tandy Corporation of Ft. Worth, TX. In December 1979 the 4K Level I starter system retailed for $499. The 16K Level II Advanced System retailed for $849.
TRS-90: The prototype name of Tandy's Color Computer before it was released. An excellent web site containing , The COCO Chronicles, may be found at http://www.cs.edu/~yakowenk/coco/text/history/html for more information.
TUNNELS OF DOOM COMMANDS and VOCABULARY:
KEYBOARD COMMANDS
<ENTER>-Inputs information; Passes a player's turn during combat; Leaves a treasure in a room; Returns from buying items in a stire's subcategory, from using the item, and from selecting an item at a living statue.
E,S,D and X - moves your party through hallways and rooms in the four compass directions E=north, S=west, X=south, D=east.
Fctn X-moves your party down a flight of staris. Fctn E-moves your party up a flight of stairs.
Fctn 3-Erases your selection if pressed before you press the <ENTER> key.
Fctn 5-begins the game.
Fctn 6-Proceeds to the next display or action, or Leaves the store.
Fctn 7-Displays the Command Summary of special key functions.
Fctn 8-Changes information and enters new information, and also Refuses monster's price during negotiations.
Fctn 9-Returns to the game screen from looking at a status report, map or Command Summary screen.
1-shows player status report.
2-shows party status report.
3-shows monster status report.
B-enables the party to break through a door.
C-checks for secret doors.
F-fires a ranged weapon.
K-saves the game.
L-enables the party to listen at a door which is adjacent to and facing the party.
M-shows the map.
N-negotiates with monsters during a battle.
O-changes party formation.
T-trades items between players exceot during a battle.
U-enables a player to use a magic item.
W-changes a player's weapons.
VOCABULARY
ARMOR-used in defense during combat. It decreases the enemy's chance of hitting a player.
BONUS-affects a character's combat chances; inherent in a player rather than from an object the player carries.
CLASS-defines the player's skills and the limitations of his trade.
DAMAGE-determines the amount of wounds a monster can take before being eliminated. For weapons and monster attacks, refers to the relative amount of wounding each can do to an enemy during combat.
EXPERIENCE-refers to the points received by a player for eliminating a monster. Experience controls the levels of a player's abilities.
HIT POINTS-determines the number of wounds a player can take before becoming disabled.
ITEM-indicates a treasure with special powers.
LEVEL-indicates a player's or monster's overall abilities.
LUCK-refers to one of a player's abilities.
OBJECT-refers to anything in the dungeon that can have the quality being discussed.
OPTION-relates to the set of commands a player can choose from at any given time.
PARTY-refers to the group of players exploring the dungeon.
QUEST OBJECT-relates to any of those items the party is searching for in the dungeon.
TREASURE-indicates those items that can be found in the dungeon--gold, weapons and armor, magic items, and quest objects.
WOUNDS-refers to the amount of damage the player has received.
TULIP COMPUTERS BV: Purchased the rights to the Commodore name and the rights to the Commodore 64 computer after Commodore Electronics and Commodore International went out of business in April 1994.
TURTLE NEWS: Newsletter of the Young People's LOGO Association, created by association founder and Texas Instruments employee Jim Muller. $15 annual subscriptions could be sent to 1208 Hillsdale Dr, Richardson, TX 75081.